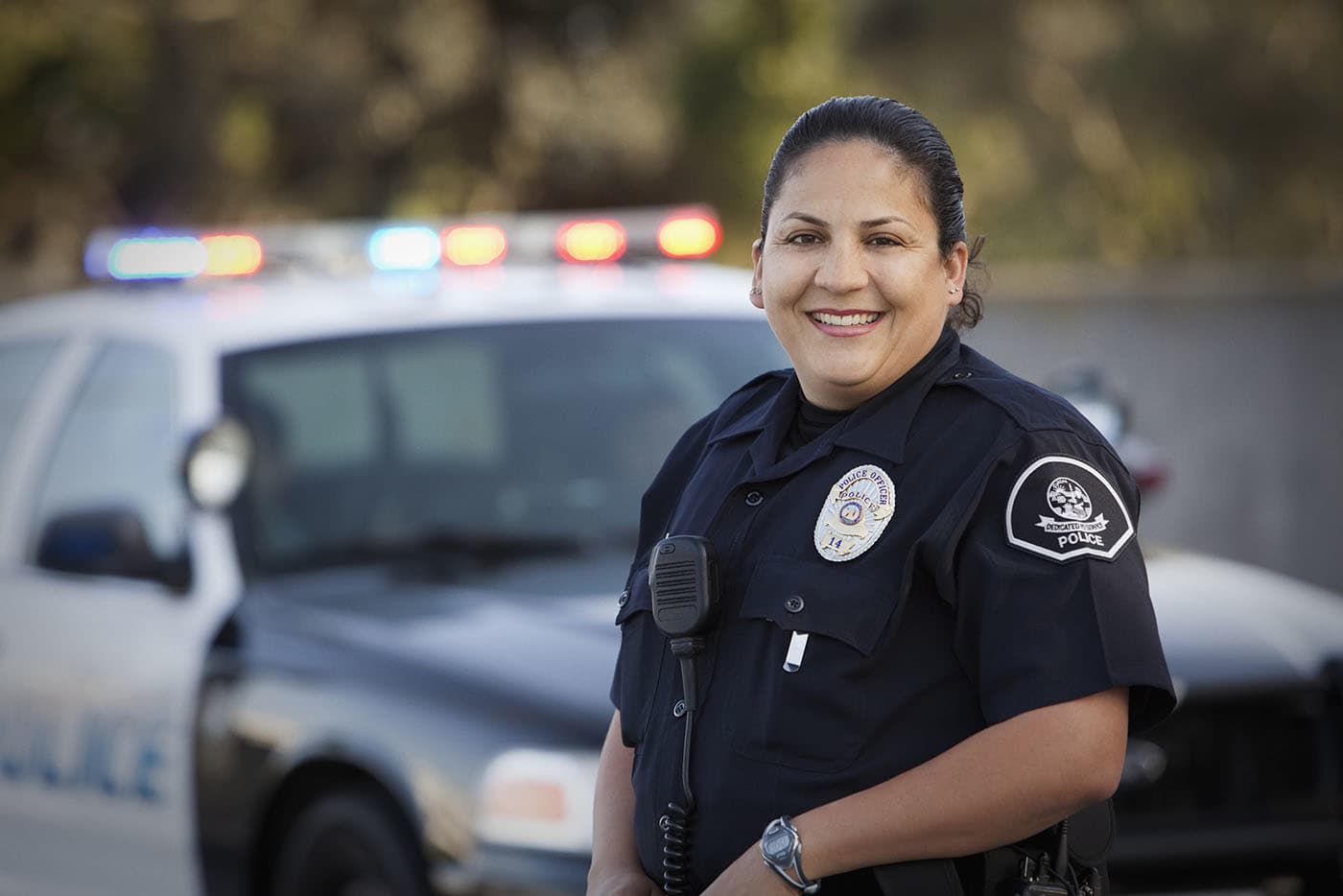 Guide to Law Enforcement Degrees
CriminalJusticeDegreeSchools.com is an advertising-supported site. Featured or trusted partner programs and all school search, finder, or match results are for schools that compensate us. This compensation does not influence our school rankings, resource guides, or other editorially-independent information published on this site.
Are you ready to find a school that's aligned with your interests?
What Is a Law Enforcement Degree?
A law enforcement degree provides the foundational knowledge and skills for a successful career in law enforcement. Extending far beyond police departments, the field encompasses a vast system of local, state, and federal agencies, such as the Federal Bureau of Investigation (FBI), the U.S. Marshals, the U.S. Fish and Wildlife Service, and the Department of Homeland Security. While varied in their jurisdictions and approaches, all law enforcement agencies share the same broad goal: to uphold the law and to ensure public order and safety.
Regardless of your ultimate career goal, a degree in law enforcement serves as a common first step to a position in the field. The work can be demanding and dangerous, but law enforcement professionals are compensated with competitive salaries and comprehensive benefits. The Bureau of Labor Statistics (BLS) reports that officers and detectives of all types earn an annual median salary of $65,170, and careers in the field are projected to grow 5% from 2018-2028.
This page offers an overview of law enforcement programs, including the various types of degrees they offer, program admission requirements, typical coursework involved, and career options after graduation.
Featured Programs
Why Get a Degree in Law Enforcement?
While a law enforcement degree is not always required to pursue a career in the field, a strong education can help candidates distinguish themselves in an often competitive job market, particularly for those hoping to advance to management and leadership positions. Additionally, some specialized law enforcement positions, such as FBI agents, typically require applicants to hold a college degree. The list below highlights three of the most common benefits of a law enforcement degree.
Career Advancement: Earning a degree can make you eligible for promotion to higher levels of law enforcement, including positions with greater responsibility and management duties.
Increased Job Opportunities: A law enforcement degree can also open up a wider assortment of job opportunities, including specialized positions with agencies such as the FBI or the Drug Enforcement Administration (DEA).
Increased Salary Potential: Along with increased job opportunities, law enforcement degree holders can advance to higher paying positions with more potential for leadership.
Career and Salary Outlook for Law Enforcement Graduates
Law enforcement graduates can pursue an assortment of career paths at local, state, and federal levels, and most positions boast competitive salaries, generous benefits, and strong potential for career advancement. In general, applicants with a law enforcement degree can expect to earn a fair wage, with most mid-career salaries falling in the $50,000-$70,000 range.
Police officers, detectives, FBI agents, and other law enforcement professionals often advance through experience, but earning a degree or professional certification can help candidates distinguish themselves for higher level positions. Some departments and agencies may even fund continuing education opportunities for their officers in order to improve law enforcement practices.
The list below outlines five popular career options for law enforcement majors. Along with general job descriptions, you'll also find an overview of average salary levels arranged by experience level.
Law Enforcement Careers: Median Salaries by Experience
| Job Title | Entry Level (0-12 Months) | Early Career (1-4 Years) | Mid-career (5-9 Years) | Experienced (10-19 Years) |
| --- | --- | --- | --- | --- |
| FBI Agent | $52,000 | $60,000 | $65,000 | $81,000 |
| Homicide Detective | $60,000 | $73,000 | $74,000 | $85,000 |
| Victims Advocate | $33,000 | $34,000 | $38,000 | $39,000 |
| Police Officer | $44,000 | $48,000 | $53,000 | $60,000 |
| Criminal Investigator | $49,000 | $51,000 | $58,000 | $69,000 |
Source: PayScale
Explore More Criminal Justice Careers
Insights From Law Enforcement Leaders
We've compiled expert advice from 36 law enforcement leaders, offering valuable tips for anyone considering a career in law enforcement. Read Career Advice from Law Enforcement Leaders
Types of Law Enforcement Degrees
While there is no substitute for professional experience, earning a law enforcement degree can provide a major boost on the path to career advancement. Law enforcement officers have four options when it comes to education: certificate, associate degree, bachelor's degree, or master's degree.
Each type of program comes with different levels of commitment, cost, and time investment. A bachelor's degree often takes about four years to complete, while many certificates can be finished in a matter of months. More involved programs typically lead to increased career options with higher salary levels. For most law enforcement careers, a master's degree is the highest level of education required.
Concentrations in Law Enforcement
More advanced law enforcement degrees, including those at the master's and bachelor's level, often feature concentration options that enable students to develop specialized skills. Concentrations typically focus on a specific law enforcement area or approach, building unique, advanced knowledge that can help applicants obtain specialized roles and distinguish themselves in a competitive job market. Pursuing a concentration can also open a wider selection of job opportunities for law enforcement graduates.
Common examples of law enforcement concentration options include:
Law enforcement administration
Law enforcement analytics
Emergency management
Public safety
Popular Law Enforcement Courses
A law enforcement degree builds both general and specialized knowledge of criminal justice concepts and practices. Most programs offer a wide variety of courses. As with many academic subjects, the curriculum for a law enforcement degree often features both core courses, which build foundational knowledge, and electives, which delve into more specialized topics. Some programs may also include capstone courses or other culminating projects.
This section outlines five common law enforcement classes, many of which may be found in programs of all levels. While exact course titles may vary between schools, the general content should stay the same.
Introduction to Criminal Justice
Most programs include a foundational course that introduces the study and philosophy of criminal justice and law enforcement. This course typically focuses on the roots of policing as well as the structure of the criminal justice system, covering police departments, courts, corrections, and social services.
Law Enforcement and Policing
This course explores the history of modern policing practices, framing law enforcement in a social, cultural, historical, and political context. These courses often focus on the development and evolution of policing practices, the changing role of law enforcement in society, and legal and ethical perspectives on enforcement strategies.
Introduction to Criminology
This course offers a broad theoretical approach to crime, criminal behavior, and their underlying causes. Most iterations of the course explore basic criminological theories along with concepts such as victimology. Many courses also offer an introduction to crime statistics and the role of statistics in forming and testing criminological theories.
Criminal Law
Law enforcement frequently intersects with the legal system, and this course offers an overview of major topics in criminal law, such as criminal responsibility, criminal defenses, and criminal mental states. Many versions of the course also explore the practices and processes of the federal court system.
Criminal Justice Practicum
Given the hands-on nature of most criminal justice work, programs often include a practicum or internship component that enables students to gain experience in a professional law enforcement environment. Often completed at a police department or another law enforcement agency, this requirement helps students draw connections between coursework and real-life criminal justice work.
Selecting Your Law Enforcement Program
Prospective students should consider many factors when choosing a law enforcement program, including:
[icon_content icon="building-college"]
School Size
School size can have a major impact on educational experience. In general, larger schools may offer more comprehensive resources and wider course selections, while smaller schools may offer fewer academic options but more individualized student support.
[/icon_content]
[icon_content icon="cash"]
Cost/Financial Aid
Tuition and financial aid options rank among the top concerns for many students, regardless of their major. In general, public colleges offer lower tuition rates than private colleges, but tuition rates can vary widely among all institutions.
[/icon_content]
[icon_content icon="crosses"]
Concentrations/Specializations
Concentrations build specialized knowledge that can help students pursue different career paths and stand out from other job applicants.
[/icon_content]
[icon_content icon="revert"]
Program Length
Many schools offer accelerated programs that enable students to enter the workforce quickly. On the other hand, working students may prefer a part-time program that enables them to balance school with professional obligations.
[/icon_content]
[icon_content icon="computer"]
Online vs. In-Person
Both online and campus formats offer different advantages and disadvantages. In general, online courses offer more flexibility but require more independence, while campus courses offer less flexibility and more structure.
[/icon_content]
[icon_content icon="ribbon"]
Accreditation
Always ensure that a school or program holds proper accreditation from a reputable accreditation agency. In general, most schools offering criminal justice programs should hold accreditation from a regional accrediting agency.
[/icon_content]
Should You Get Your Law Enforcement Degree Online?
The flexibility, affordability, and increasing prevalence of online education have led to greater numbers of students earning their law enforcement degree online. Many criminal justice professionals pursue education to advance in their careers, and online programs typically enable students to complete their degree while maintaining a full-time job.
Online learning generally offers more flexibility than campus courses, but this comes with some notable tradeoffs. Online courses require students to be much more independent, completing assignments on their own time without the structure of weekly classroom meetings. Campus courses also offer more opportunities for face-to-face interaction with peers and faculty, which some students may find helpful.
For working students and those who live far from a college campus, online courses offer a convenient route to higher education that might otherwise remain inaccessible. For those who may be unsure about committing to online education, many schools allow students to "test drive" online courses before enrolling.
Accreditation for Law Enforcement Schools and Programs
When researching law enforcement programs, always be sure that a college possesses proper accreditation. Accreditation indicates that a school has met various standards designated by federally recognized accreditation agencies, ensuring the quality and reputability of their academic programs. Without proper accreditation, students may be ineligible for financial aid and unable to transfer their credits to other colleges.
A school should possess either national accreditation (typically reserved for trade and vocational education) or regional accreditation (typically reserved for academic and professional education). Most law enforcement programs are offered through regionally accredited colleges. If a school holds accreditation from one of the regional accrediting agencies, students can generally be assured of a quality education.
Some individual programs may also hold accreditation from the Academy of Criminal Justice Sciences. While programmatic accreditation does demonstrate academic quality, many strong programs lack this type of specific accreditation. For law enforcement programs, regional accreditation still serves as the ultimate standard.
Resources
Frequently Asked Questions
How long will it take to complete a law enforcement degree?
Completion times can vary widely among programs and degree levels. In general, an associate degree takes two years, a bachelor's degree takes four years, and a master's degree takes 2-3 years. However, many schools offer accelerated and part-time options that can either shorten or lengthen the time it takes to graduate.
How much will I make with a degree in law enforcement?
As with any field, salary levels in law enforcement can vary depending on factors such as education, experience level, location, and position. The BLS reports an annual median salary of $65,170 for all types of police and detectives, though some positions, such as detectives and criminal investigators, earn more.
What kind of jobs can you get with a law enforcement degree?
Law enforcement graduates can pursue a wide selection of careers at federal, state, and local jurisdictions. Some common career paths in the field include working as police officers, detectives, FBI agents, fish and game wardens, and narcotics officers. In general, candidates expand their career options as they pursue further education or gain more job experience.
Do I need a law enforcement degree to be a police officer?
It depends. More and more jobs in the field of law enforcement are requiring some kind of formal education. 35% of O*NET respondents report that most police patrol officers need only a high school diploma to get a job, but many (27%) report that a post-secondary certificate is needed, while 24% report that an associate degree is required for a job as a police officer. Clearly, formal education is becoming a more common requirement for those entering law enforcement careers. Check the specific requirements for the law enforcement job you are considering to learn whether or not you will need a degree.
Scholarships for Law Enforcement Programs
Law enforcement majors have many options to finance their education, including a variety of scholarships available to students at all levels. These scholarships vary in their application requirements and award amounts, but they all support students pursuing an education in law enforcement or criminal justice.
Additional Reading
CriminalJusticeDegreeSchools.com is an advertising-supported site. Featured or trusted partner programs and all school search, finder, or match results are for schools that compensate us. This compensation does not influence our school rankings, resource guides, or other editorially-independent information published on this site.
Take the next step toward your future.
Discover programs you're interested in and take charge of your education.