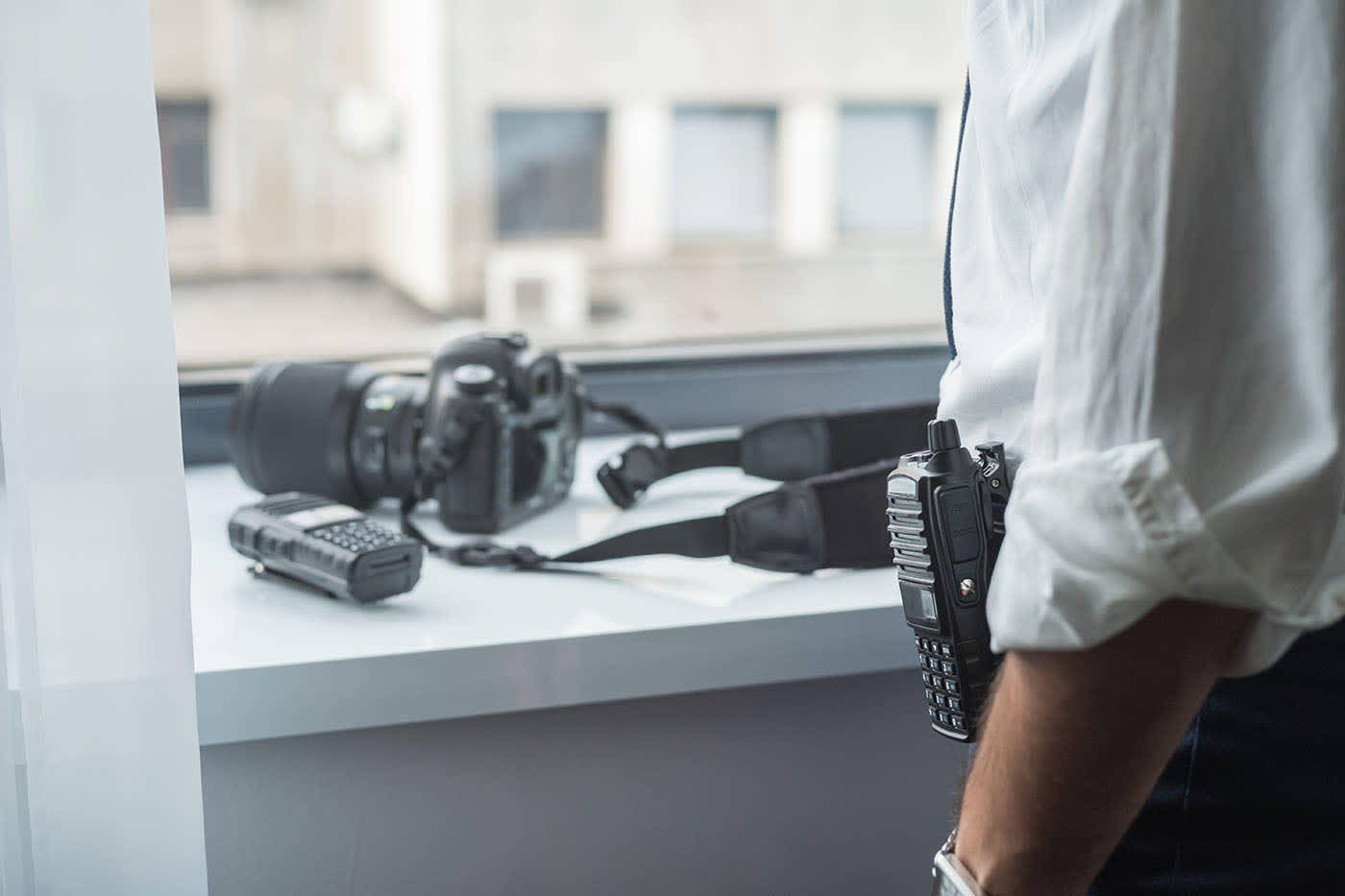 Bounty Hunter: Career Guide
CriminalJusticeDegreeSchools.com is an advertising-supported site. Featured or trusted partner programs and all school search, finder, or match results are for schools that compensate us. This compensation does not influence our school rankings, resource guides, or other editorially-independent information published on this site.
Are you ready to find a school that's aligned with your interests?
Bounty hunters are private citizens who aid the criminal justice system, working to pursue and apprehend fugitives who have skipped bail or failed to appear for court proceedings. Most bounty hunters operate as independent contractors, typically taking assignments from bail bond agencies. Bounty hunting offers a high level of flexibility along with a unique assortment of challenges.
The Bureau of Labor Statistics (BLS) projects an 8% increase in jobs for private detectives and investigators between 2018-2028, which is higher than the national average. This guide offers an overview of how to become a bounty hunter, including education requirements, typical salary levels, and the path to professional licensure.
Featured Online Programs
Explore program formats, transfer requirements, financial aid packages, and more by contacting the schools below.
What Does a Bounty Hunter Do?
Bounty hunters perform many tasks, but under most circumstances, their primary goal remains the same: to capture fugitives who have skipped bail. Bounty hunters may conduct investigations, interview subjects, and perform surveillance to identify the whereabouts of a suspect. They must also apprehend these fugitives and transport them to the proper authorities.
Bounty hunters most commonly work with bail bond companies, pursuing suspects who have failed to pay bail or refused to appear for a court date. Typically employed as independent contractors, they are private citizens with the legal authority to track down and arrest fugitives. Bounty hunters generally receive a set percentage (often between 10%-25%) of a bail bond's value.
Bounty hunting comes with many challenges, and most bounty hunters hold significant law enforcement experience. Many are former police officers or private investigators who draw on their work experience and networks of professional contacts.
Like law enforcement, bounty hunting includes an inherent level of danger, as suspects may resist apprehension. Bounty hunters often carry weapons and may occasionally be required to defend themselves against physical harm.
Key Skills for Bounty Hunters
Bounty hunters draw on many skills to perform their work. The profession requires a mixture of physical strength, investigative savvy, and strong communication skills. The following list outlines five of the most important skills for bounty hunters.

INVESTIGATION AND RESEARCH

Bounty hunters perform many of the same tasks as police detectives, attempting to locate suspects who may not want to be found. They often use many different channels to determine a suspect's location, such as searching public records or examining social media accounts.

INTERVIEWING

Bounty hunters often rely on interviews with friends, family, coworkers, and other acquaintances to help locate a fugitive. Like police officers, bounty hunters must communicate effectively with interview subjects, making them feel at ease and asking the right questions to determine a suspect's whereabouts.

SURVEILLANCE

After learning a fugitive's location, bounty hunters may need to conduct surveillance in order to verify a suspect's identity and determine the most effective strategy for apprehension. Successful surveillance requires an eye for detail and the ability to organize and plan effectively.

NEGOTIATION

Bounty hunters always attempt to apprehend a suspect peacefully, and strong negotiation skills may enable them to convince people to turn themselves in without resistance. Communication and negotiation skills also come into play when interacting with interview subjects and bail bond agencies.

SELF-DEFENSE

While not always necessary, bounty hunters must be prepared to physically pursue and apprehend suspects, which may put them at risk of bodily harm. Therefore, bounty hunters need physical strength and agility as well as self-defense skills. Most bounty hunters are also familiar with firearm use and safety.
Bounty Hunter Daily Tasks
A bounty hunter's work can vary greatly from day to day, but each assignment often follows a similar pattern. This list outlines some of a bounty hunter's common daily tasks.

Collect New Bounties

Bounty hunters work with bond agencies to take on bounties for a set fee. They often work as independent contractors, so they may need to check with multiple agencies to collect new assignments.

Investigate Fugitives

Investigation often involves traveling to a fugitive's home, workplace, and usual hangouts to gather information and interview subjects

Perform Research

Research might involve communicating with police contacts, tracing credit card records, investigating a fugitive's online presence, and any number of other tasks.
Bounty Hunter Salary and Career Outlook
Bounty hunters fall under the occupational umbrella of private detectives and investigators. The BLS reports private investigators of all types earn an annual median salary of $50,510. The BLS also projects job openings for bounty hunters to increase 8% from 2018-2028, a growth rate faster than the national average.
Many bounty hunters find the freedom and flexibility of the job appealing. Employed primarily as independent contractors, they typically work on their own schedule, collecting bounty assignments and pursuing fugitives with little adherence to a conventional workday schedule.
At the same time, the independent nature of the job means work may be unpredictable, and bounty hunters often take on risk and liability uncommon in most career paths. Read on to find out more about the various factors that can affect a bounty hunter's salary.
Salary Expectations for Bounty Hunters
As noted in the previous section, bounty hunters can expect to earn an annual median salary of $50,510, according to the BLS. However, many factors can affect a bounty hunter's earnings, and the freelance nature of the job means that pay may fluctuate more than most careers.
Bounty hunters receive compensation for each contract they fulfill, typically collecting pay only after they apprehend a fugitive. Accordingly, a bounty hunter's annual salary varies depending on how many contracts they complete during a year. Bounty hunters with more experience commonly earn a higher rate per assignment.
A bounty hunter's level of education may not directly impact their earnings. However, those with higher levels of education typically possess a more comprehensive skill set and greater knowledge of criminal justice practices, enabling them to take on more complicated assignments that come with higher pay.
How to Become a Bounty Hunter
The process to become a bounty hunter varies from state to state; about half of all U.S. states require official licensure or registration. Even in states without licensure requirements, bounty hunters need to build experience before they can expect any success in the field. Those with fewer professional connections may also have trouble receiving bounty assignments.
In general, the more professional experience, education, and connections aspiring bounty hunters possess, the more likely they are to succeed quickly in the field. The following section outlines the typical steps to becoming a bounty hunter.
Steps to Becoming a Bounty Hunter
Get Educated

While becoming a bounty hunter does not require a specific degree, studying criminal justice or law enforcement builds valuable skills for bounty hunting.

Gain Experience

Even more than education, professional experience in criminal justice -- often as a police officer and/or a private detective -- can prepare bounty hunters for the various challenges in the field.

Become Licensed

Many states maintain licensure requirements for bounty hunters, which may call for professional experience or education. Check with individual states to determine specific requirements.

Network with Bail Bond Agencies

To obtain assignments, bounty hunters need to build a network of connections with local bail bond representatives.
Bounty Hunter Requirements
The qualifications for bounty hunters can vary by state, but general standards of experience and education typically translate regardless of location. The following sections outline some of the typical requirements for bounty hunter jobs in the United States.
Education Requirements for Bounty Hunters
While most bounty hunter jobs do not call for specific education prerequisites, earning a degree in law enforcement or criminal justice can help bounty hunters progress more easily in the field. In general, bounty hunters need law enforcement experience, and positions with police departments and other agencies increasingly call for associate degrees or bachelor's degrees in criminal justice.
Along with building knowledge of the criminal justice system and law enforcement practices, a degree typically enables criminal justice professionals to advance professionally, which can create more opportunities for bounty hunting work. Former law enforcement officers with a strong professional network and varied experience are more likely to succeed at bounty hunting.
LEARN MORE ABOUT CRIMINAL JUSTICE DEGREES
Required Experience for Bounty Hunters
Experience requirements vary among states, and those that require licensure may also call for bounty hunters to possess a set amount of professional experience. However, all bounty hunters need knowledge of criminal justice principles and practices to succeed at their work. While education plays a role in a bounty hunter's success, it rarely substitutes for practical exposure to the field.
Most bounty hunters possess years of experience in the criminal justice field, and those who attempt to enter the profession with no relevant background are unlikely to succeed. In many instances, new bounty hunters may work with more experienced professionals to learn on the job, gaining experience through mentorship.
License and Certification Requirements for Bounty Hunters
Professional licensure and certification standards for bounty hunters vary among states. About half of all U.S. states require some form of licensure for bounty hunters, though exact procedures for obtaining a license can differ greatly.
In Alabama, for example, bounty hunters must complete a bail bond examination operated through the State Department of Insurance. Other states enforce more lenient standards, only requiring bounty hunters to be of legal age with clean criminal records.
Given the wide variety of licensure requirements, it's important to consult individual state agencies before pursuing a career as a bounty hunter. The next section outlines different state permissions for bounty hunting.
Where Can I Work as a Bounty Hunter?
Due to widely varying state requirements and standards, bounty hunters must be acutely aware of the legal regulations within their own state and any other states in which they may plan to operate.
In total, 46 U.S. states maintain private bail and fugitive recovery permissions, enabling bounty hunters to operate in aid of the criminal justice system. About half of these states maintain licensure requirements for bounty hunters. Prospective bounty hunters should note that four states -- Illinois, Kentucky, Oregon, and Wisconsin -- have no private bail or fugitive recovery system, effectively eliminating the job market for bounty hunters.
The following four lists below outline the key differences in bounty hunting regulations among U.S. states.
States Requiring Licensure or Registration
Arizona
Colorado
Connecticut
Delaware
Georgia
Indiana
Iowa
Kansas
Louisiana
Mississippi
Missouri
Nevada
New Hampshire
New Jersey
New Mexico
New York
South Dakota
Tennessee
Utah
Virginia
Washington
West Virginia
States Allowing Fugitive Recovery, No Licensing Required
Alabama
Alaska
California
Hawaii
Idaho
Maine
Maryland
Massachusetts
Michigan
Minnesota
Montana
Nebraska
North Dakota
Oklahoma
Pennsylvania
Rhode Island
Vermont
Wyoming
States Allowing Fugitive Recovery but Not the Title of "Bounty Hunter"
Arkansas
Florida
North Carolina
Ohio
South Carolina
Texas
States Without a Private Bail System or Fugitive Recovery
Illinois
Kentucky
Oregon
Wisconsin
Resources
Frequently Asked Questions
How long does it take to become a bounty hunter?
The exact timeline for becoming a bounty hunter varies by state. However, most bounty hunters need years of criminal justice experience to succeed in the field.
What degree is needed to be a bounty hunter?
No specific degree is required to work as a bounty hunter, but degree programs in areas like law enforcement, criminal justice, and criminology offer appropriate training for the profession.
How much does a bounty hunter make?
The BLS reports that all types of private investigators and detectives, including bounty hunters, earn an annual median salary of $50,510.
What requirements are there to become a bounty hunter?
About half of all U.S. states maintain some form of licensure requirements for bounty hunters, some of which include an exam. Other states do not maintain requirements.
How long is bounty hunter training?
Total training time for bounty hunters can vary depending on experience. Some may apprentice under a more experienced bounty hunter or bail bondsman to learn the trade.
What kind of training do I need to become a bounty hunter?
Most states require at least some training or experience to earn licensure. Training can typically be completed on the job or through a criminal justice program.
Do bounty hunters work regular hours?
Bounty hunters should expect to work odd shifts due to the nature of their work. Nights and weekends are not off limits for a person whose main job is to capture fugitives. When a bounty hunter receives a new "skip" from a bail bondsman, the bounty hunter usually works nonstop until the "skip" is found.
Professional Resource for Bounty Hunters
NATIONAL ASSOCIATION OF FUGITIVE RECOVERY AGENTS
The NAFRA maintains professional standards for bounty hunters, bail enforcement agents, and the entire industry.
Related Careers
Explore these related careers in the field of criminal justice.
Additional Reading
EXPLORE OTHER CRIMINAL JUSTICE CAREERS
EXPLORE OTHER CRIMINAL JUSTICE DEGREES
CriminalJusticeDegreeSchools.com is an advertising-supported site. Featured or trusted partner programs and all school search, finder, or match results are for schools that compensate us. This compensation does not influence our school rankings, resource guides, or other editorially-independent information published on this site.
Take the next step toward your future.
Discover programs you're interested in and take charge of your education.