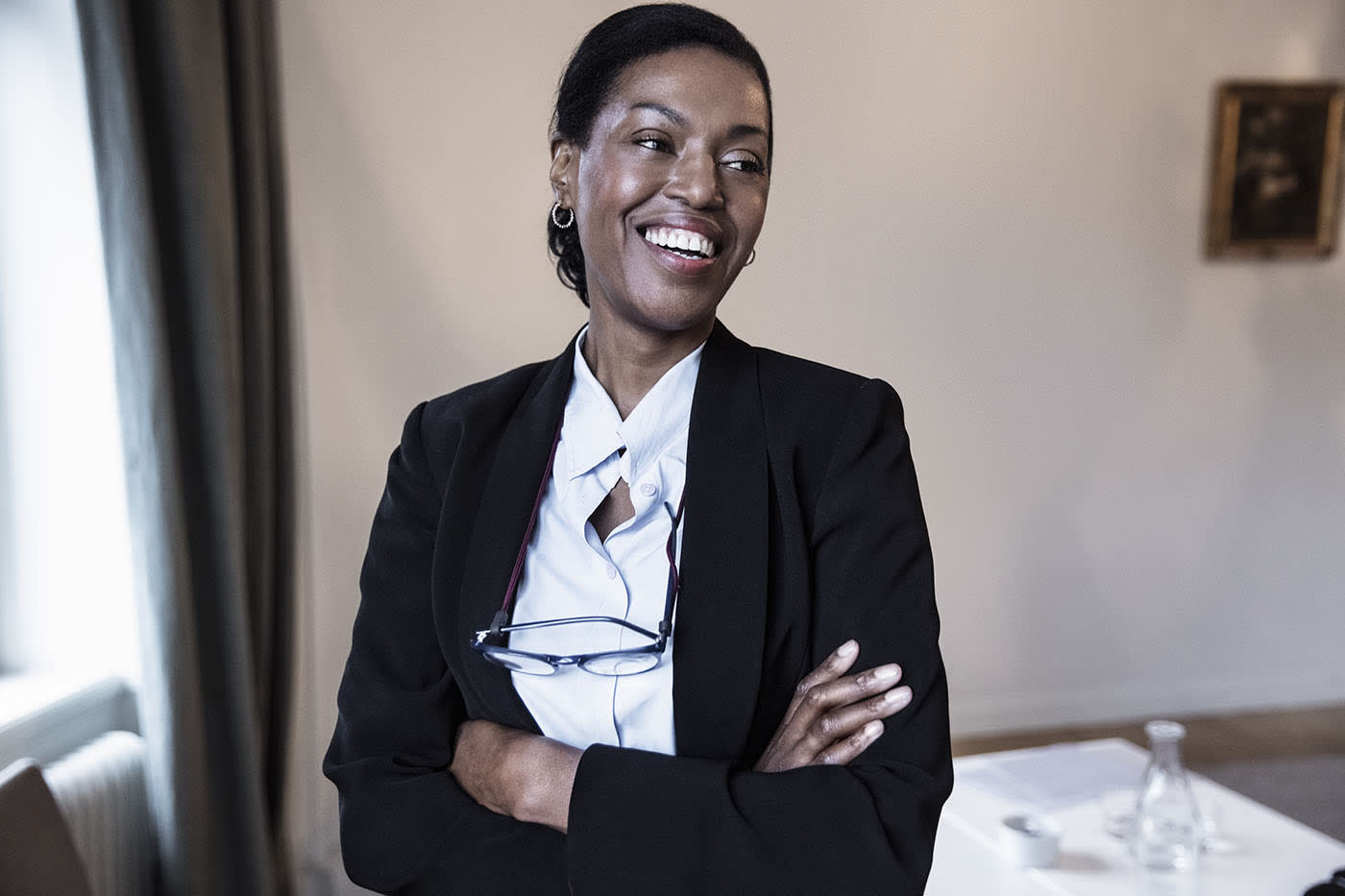 How to Become a Lawyer: Career Guide
Kay Irvin

|
Contributing Writer
Updated September 21, 2022
CriminalJusticeDegreeSchools.com is an advertising-supported site. Featured or trusted partner programs and all school search, finder, or match results are for schools that compensate us. This compensation does not influence our school rankings, resource guides, or other editorially-independent information published on this site.
Are you ready to find a school that's aligned with your interests?
If your goal is to pursue a career in the legal system that is challenging yet rewarding, becoming a lawyer could be a great fit — especially if you enjoy helping others who are facing legal battles. A lawyer's job is to offer legal advice and representation to people, businesses, or government entities who need it, while helping them navigate the complex legal system when necessary.
Becoming a lawyer will offer other perks in addition to letting you work within the justice system. For example, a job as a lawyer typically yields a higher-than-average salary. According to the Bureau of Labor Statistics, the median pay for lawyers was about $126,930 as of 2020. And, jobs in this field are expected to grow by about 4% through 2029, which is about average for most fields.
You may be asking yourself, "What do I need to do to become a lawyer?" You'll find the answers to that and other questions below. Becoming a lawyer takes some time and some work, but it is a path that can lead to a promising career.
Featured Online Programs
Explore program formats, transfer requirements, financial aid packages, and more by contacting the schools below.
Career Overview, Duties, and Common Tasks
Career Overview
A lawyer's duties vary depending on employer, field, and work context. Some professionals primarily provide legal counsel, while other lawyers represent clients regularly in court. Other possible work contexts include private practices, law firms, government organizations, and corporate offices. Possible roles include public interest lawyer, government prosecutor, in-house corporate counsel, or public defense attorney. It typically takes about three years of school after earning your bachelor's to become an attorney. You'll need to earn a degree in law, and most states require a Juris Doctor (J.D.) degree from an accredited law school to become a licensed attorney.
Common Attorney Job Duties and Tasks
Whether tasked with representing their clients in private legal matters or in court, lawyers often spend considerable time researching and preparing cases. These duties may begin with interviewing and counseling clients concerning their legal rights, responsibilities, and decisions. Lawyers may also research and analyze legal problems and interpret existing laws, precedents, and regulations. These professionals usually prepare and present cases using persuasive arguments and evidence.
Other duties include communicating with other legal professionals, supervising legal assistants and secretaries, and liaising between involved parties. Lawyers may also prepare and file legal documents such as contracts, wills, or lawsuits.
When representing clients in the courtroom, lawyers need to manage stress and speak well under pressure. Lawyer jobs also typically require advanced critical thinking, research, and interpersonal skills. Legal careers typically afford professionals considerable variety in daily tasks, which may include meeting with clients, conducting research, composing legal documents, or conducting trials.
Educational and Licensing Requirements for Becoming an Attorney
You may not be clear on how to become a lawyer, or how to be a lawyer, and that's OK. The path is a lot less cut and dry than other career paths.
To pursue a career as a lawyer, you must earn an advanced degree, as well as pass the state bar exam to become licensed.
After finishing your bachelor's degree — preferably in a field like English or social science — the next step is to earn a law degree.
Not sure of how to get a law degree? You'll start by applying to take the LSAT, a standardized law school entrance exam. And, you'll need to score highly enough on the LSAT to be competitive against other applicants at the law schools you apply to, so take that test seriously.
Once you're admitted, you'll enter law school to earn your law degree, but how long does it take to become a lawyer? Law school typically takes about three years to complete. After graduating with your J.D. degree, you are eligible to take the bar exam. Most law school graduates spend at least a year studying for the bar exam, and it's an incredibly difficult exam to pass.
Once you pass the bar, you are then legally licensed to practice law in the state in which you took your bar exam.
Specializations and Career Tracks
While all attorneys are responsible for interpreting and applying the law, there are different specialties for those skilled in a particular part of the law. There are lawyers who are specialized in criminal law, or family law, and others who are skilled at worker's compensation or animal rights. Other areas can include tax, labor, and corporate law. The type of lawyer you want to become is up to you and what you feel passionate about.
Where Can I Work as an Attorney?
You'll have plenty of choices when it comes to employment opportunities. You can work as part of a law firm, with a partner, or even independently. You can also work for the state in roles like state-appointed district attorney or public defender.
Lawyers spend most of their time either in two places: the office or in the courtroom. In the office, you will work to prepare for cases, meet with clients, or do the other legal legwork it takes to fulfill their job duties. In the courtroom, you'll defend clients, represent businesses, or help to push legal filings through to the proper channels.
Steps to Become a Lawyer
EARN AN UNDERGRADUATE DEGREE

For admission to law school, you'll usually need to hold a bachelor's degree from an accredited college or university. Most law schools do not require specific major prerequisites. If you're interested in intellectual property law, you may benefit from an undergraduate degree in math or technical science to prepare for the patent bar examination. Law schools often look for top students with a minimum 3.0 undergraduate GPA.

PASS THE LAW SCHOOL ADMISSION TEST (LSAT)

When you're applying to law school, you must pass the LSAT, a standardized test that evaluates reading and verbal reasoning skills. The test takes half a day and is offered four times per year at many locations. If you're interested in fall admission, you should take the test in October or June, although December scores are usually accepted. LSAT scores weigh heavily in admission and financial aid decisions.

EARN A LAW DEGREE

Lawyer requirements typically include a graduate law degree (usually a JD) from an accredited law school. Most states require that you obtain this degree before taking the bar exam. Law school typically entails three years of full-time study, and many graduates complete a one-year clerkship afterward.

PASS THE MULTISTATE PROFESSIONAL RESPONSIBILITY EXAMINATION (MPRE)

Required by all U.S. states and jurisdictions except Wisconsin, Maryland, and Puerto Rico, this two-hour ethics exam consists of 60 multiple choice questions and is a prerequisite for the bar exam.

PASS THE BAR EXAMINATION

Aspiring lawyers usually must pass the bar exam in their future state of practice. Passing rates for the bar exam drop as low as 40% in some states, so solid preparation is crucial.
What It Takes to Earn a Degree in Law
Before you decide if becoming a lawyer is the right career for you, you should consider whether you have what it takes to get through law school. The reality is that law school isn't the right fit for everyone, and the last thing you want to do is to make it part of the way through law school and then drop out without your degree — but with plenty of student loan debt.
Start by considering whether you have the time to commit to making it through law school. Law school generally takes about three years, and during those years, you can expect schooling to take up nearly all of your time. You won't be able to work, and you can expect to have a limited social life as well. It is possible to attend law school while working, but you'll have to attend part-time.
In addition to the time commitment, it's important to consider the type of work required to make it through law school. There's a significant amount of reading and research required for law school students. There are also many exams, and as you make your way further into law school, you'll have a heavy writing load.
Law school is also incredibly competitive. Where you rank in your graduating class helps to determine the types of jobs you're able to get. If you decide to attend law school, it's important that you really commit to giving it your full effort and attention.
How to Find the Right Law School For Me
One of the first decisions you'll have to make as you begin your law career is which law school you'll attend. There are hundreds of law schools approved by the American Bar Association, and the school you choose could impact your future career in terms of your salary and the job opportunities available to you.
Here are a few things to consider when finding the right law school for you:
Location: Remember that where you choose to attend law school will be your home for at least the next three years, and maybe longer. While location may not be your top consideration when choosing a law school, it's definitely something to keep in mind.
Curriculum: The curriculum may look similar from one law school to the next, especially in your first year, but it can also vary based on the program and school. Some schools may have more required courses or offer specialized tracks, so make sure you find the school that offers the right curriculum for you.
Compatibility: Certain law schools will place a greater emphasis on certain programs or types of law, and it's important to make sure the law school you attend is compatible with your future career.
Prestige: While prestige isn't always an indicator of the quality of the education you get, it often is. It also shapes the way future employers and colleagues will see you. Having a more prestigious law school listed on your resume might also make you a more attractive job candidate.
Faculty: Spend some time researching the faculty at each school you're considering. These are the people you'll be learning from, and might also be the ones connecting you to future jobs. It's important to pay attention to who you'll be learning from.
Cost: Unfortunately, law school comes with a large price tag, though the cost of law school can vary significantly from one school to the next. While you don't necessarily want to attend an inferior school to save money, you also don't want to be stuck paying off law school debt for decades to come — even on a lawyer salary.
Lawyer Job Training
On-the-job training for lawyers depends somewhat on specialization, sector, and career goals. Many law students begin their professional training during law school through law school clinics with nonprofit organizations. Working under the supervision of experienced lawyers, students in these clinics engage in real-world legal duties such as investigating cases and counseling clients.
Some successful law school graduates qualify for clerkships assisting judges or other legal professionals. These clerkships often precede passing the bar and seeking other full-time work. Clerkship duties may include conducting legal research and drafting important documents such as legal briefs, decisions, and verdicts. Clerkships provide on-the-job training that helps prepare students for the legal profession.
When eventually hired by law firms, new lawyers often complete additional training with the firm. Some states also mandate state-specific training and other requirements for new lawyers.
Other Helpful Skills and Experience
Aspiring lawyers need advanced skills in active listening and oral and written communication. Skills in rhetorical persuasion and argumentation prove essential in presenting cases effectively, and logical thinking helps lawyers identify when and where laws apply in a given situation. Lawyers representing clients in the courtroom must manage stress effectively and speak well in front of others, even under high pressure.
As lawyers must often deal with difficult people, they also benefit from considerable empathy, patience, and interpersonal skills. Negotiation skills help lawyers communicate with opposing counsel.
Analyzing complex legal issues and sifting through long legal documents require sophisticated critical thinking, persistence, and concentration abilities. Organization skills prove beneficial, particularly when managing long, complex cases. Lawyers also benefit from technological skills when navigating case management systems or software for preparing legal documents or conducting research.
Attorneys who have professional experience with nonprofits, legal clinics, or clerkships often appear more attractive to employers. Business management backgrounds can help lawyers who wish to open and run a private practice, since entrepreneurs usually need fluency in business areas such as financial management, strategic planning, and personnel management. Students with business backgrounds may also appear more qualified to prospective corporate employers.
Salary and Career Outlook
Successful lawyers usually earn hefty salaries, evident in the average $126,930 median annual salary indicated by 2020 BLS data. However, lawyer salaries vary considerably based on experience level, with less experienced associate attorneys earning about $74,000 annually according to PayScale. PayScale reports $84,00 as the average annual salary for attorneys and lawyers.
Salaries also vary by sector, industry, and employer, with corporate lawyers making around $111,500 annually and public defenders making $62,000. Lawyers employed by the federal government make about $30,000 more than state government lawyers do, according to the BLS. Top-paying industries include cable and subscription programming, motion picture and video production, infrastructure construction, and computer and equipment manufacturing.
Geographical location also influences lawyer salaries. BLS data indicates that lawyers based in California and New York boast higher average salaries than lawyers in other states.
The BLS projects an average job growth rate of 6% between 2018 and 2028, but keep in mind that job growth rates, like salaries, often vary by field. Lawyers seeking to boost their salaries often pursue specialized continuing education in growing, profitable industries and fields.
Featured Online Programs
Explore program formats, transfer requirements, financial aid packages, and more by contacting the schools below.
What type of hours do attorneys typically work?
Lawyers often work during normal business hours, although some professionals enjoy flexible schedules. Given the often time-sensitive nature of their work, attorneys often put in long days. Some tasks, such as conducting research, require unpredictable amounts of time. Other potentially time-consuming job aspects include court trials, consultations with clients, and document preparation. Factors such as hung juries or new evidence can prolong hours and days in court.
What opportunities are available for lawyers who can't find a permanent job?
Legal positions can be competitive to obtain, so lawyers may need to extend their job search to include a wider geographical area. Major cities typically boast more diverse legal position options, so relocation to an urban or suburban area can improve career prospects. However, keep in mind that moving across state lines will require practicing lawyers to pass another state bar exam. Other helpful job-finding resources include the networking tools, career centers, and continuing education provided by professional organizations. Legal temp agencies can also provide short-term work for job seekers pursuing full-time employment.
Is self-employment common among attorneys?
Most attorneys work for district attorney offices, law firms, governments, or companies, but some lawyers operate private practices or work independently as consultants. The flexible career of consulting can allow lawyers to choose which organizations they serve. Consultants may work for businesses, nonprofit organizations, governments, or individual clients. According to the BLS, 20% of lawyers are self-employed.
Read further about our top online criminal justice program rankings:
CriminalJusticeDegreeSchools.com is an advertising-supported site. Featured or trusted partner programs and all school search, finder, or match results are for schools that compensate us. This compensation does not influence our school rankings, resource guides, or other editorially-independent information published on this site.
Take the next step toward your future.
Discover programs you're interested in and take charge of your education.