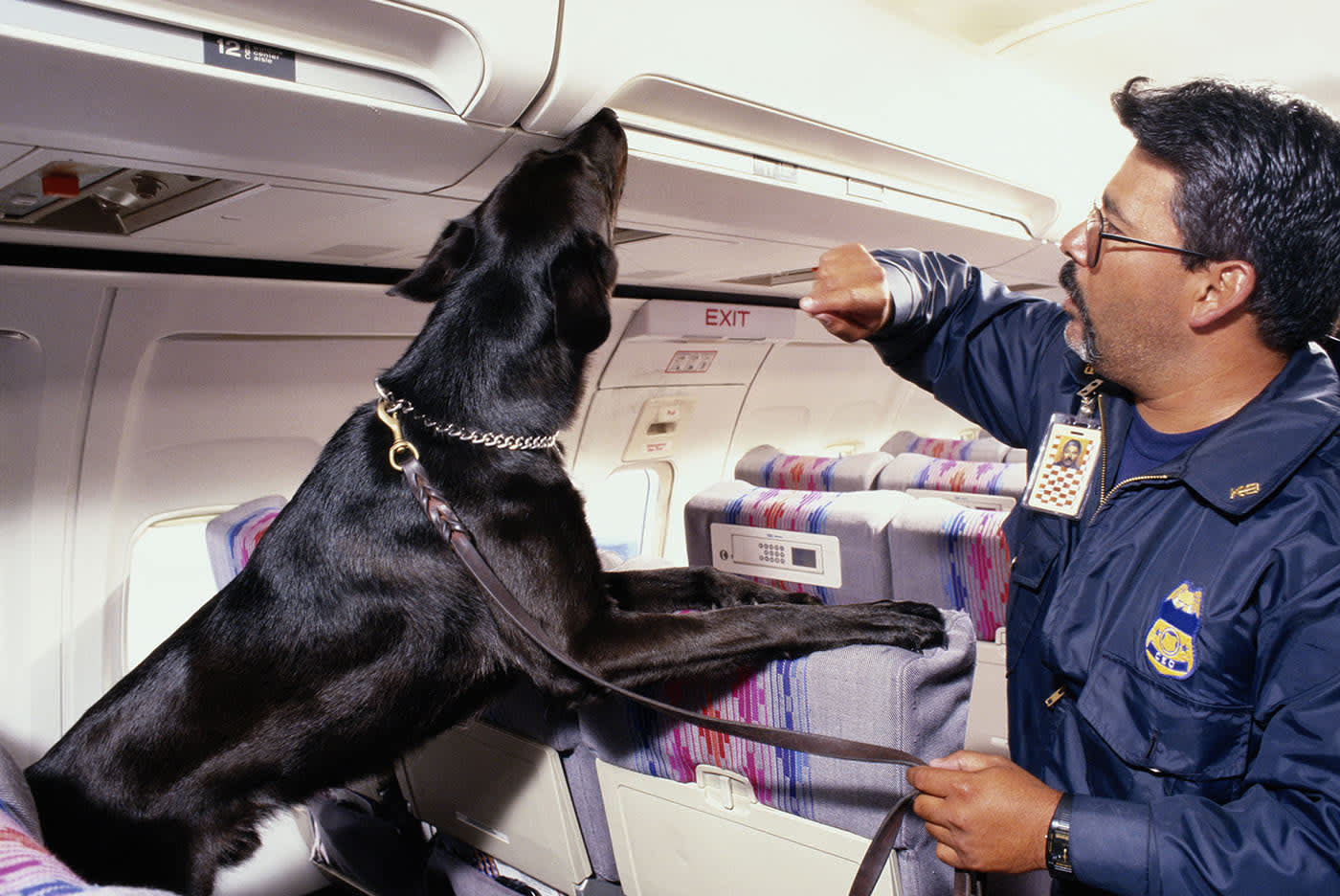 Homeland Security: Career and Salary Information
CriminalJusticeDegreeSchools.com is an advertising-supported site. Featured or trusted partner programs and all school search, finder, or match results are for schools that compensate us. This compensation does not influence our school rankings, resource guides, or other editorially-independent information published on this site.
Are you ready to find a school that's aligned with your interests?
Homeland security professionals protect the safety and freedoms of the U.S. and its people. The field of homeland security encompasses protective and law enforcement services across the country, including some of the largest federal organizations in the nation. The Department of Homeland Security (DHS), for example, oversees agencies such as the Transportation Security Administration (TSA), the U.S. Coast Guard, and Immigration and Customs Enforcement (ICE).
Homeland security training can lead professionals to careers in administration, intelligence, and field work. It may also prepare candidates for careers in other agencies, like the FBI or CIA. Candidates can qualify for these careers with a bachelor's degree, an advanced degree, or a combination of education and experience.
Ideal for people seeking leadership and authoritative positions, homeland security careers allow professionals to contribute to making America a safer place to live. Some careers provide financial benefits, as well. Emergency management directors, for example, earn a median annual wage of approximately $75,000, according to the U.S. Bureau of Labor Statistics (BLS). The following page explores this career path in more detail.
Featured Online Programs
Explore program formats, transfer requirements, financial aid packages, and more by contacting the schools below.
What Do Homeland Security Professionals Do?
Homeland security encompasses a variety of fields and professions, all committed to protecting the country and its people. Field training prepares participants for traditional law enforcement roles, but homeland security professionals also tend to work in specialized fields, such as government, border agencies, and air authorities. The following list highlights some possible homeland security careers.
Key Skills for Homeland Security Professionals
Homeland security professionals enjoy a range of employment options because they boast a diverse set of skills. However, the field does tend to rely on certain skills more than others. The following list looks at which skills contribute to these professionals' success.
LEADERSHIP

Due to the importance of their positions and the necessity for authority in high stress situations, homeland security workers often lean on leadership skills. These skills enable them to take control of situations and give others a sense of security in emergency and dangerous circumstances.

PERCEPTIVENESS

In many DHS careers, perceptiveness is one of the most important skills. Analysts, air marshals, and airport screeners all rely on their perceptiveness to identify potential threats. This skill allows professionals to make accurate judgements based on their real-time observations, which can de-escalate situations and save lives.

COMMUNICATION

Strong communication skills are important for DHS professionals when issuing commands in the field or submitting intelligence reports. This skill also helps homeland security professionals listen to and comprehend what others are saying, which is useful when gathering intelligence during interviews or surveillance.

CRITICAL THINKING

Critical thinking skills give DHS professionals the ability to accurately assess situations and make reasonable decisions. The skill also helps when developing intelligence plans and evaluating results. Critical thinking skills can help professionals in every division and profession related to homeland security.

EMPATHY

Empathy skills equip professionals to better understand the people they work with and for. This allows them to view exchanges from various perspectives, which leads to more constructive communication and effective de-escalation efforts. Professionals working with civilians may find empathy one of their more valuable, applicable skills.
Homeland Security Salary and Career Outlook
Aspiring homeland security professionals enter a field that employs more than 230,000 professionals from diverse backgrounds in a variety of careers. To replenish the pool of qualified candidates, the DHS hosts a steady stream of recruitment efforts, providing ample opportunity for new applicants.
SEVERAL FACTORS INFLUENCE DHS WAGES, BUT THE AVERAGE EMPLOYEE IN THE ORGANIZATION EARNS AN ANNUAL MEDIAN SALARY OF APPROXIMATELY $75,000, ACCORDING TO PAYSCALE.
DHS employment can give professionals a great sense of purpose as they manage situations of national importance and serve and protect people from all manners of threats and risks. The field also offers growth potential and new career opportunities for those with experience or advanced training.
In addition to strong salary expectations, discussed in more detail below, DHS professionals often enjoy flexible hours, health and insurance benefits, and competitive vacation and retirement plans. Interested candidates can find more information on the DHS website or current job openings at USAJOBS.
Salary Expectations for Homeland Security Professionals
As with most careers, several factors influence homeland security professionals' salaries. Federal professions, like those within the DHS, fall under the general schedule (GS) classification. This system provides a structured layout for various employment levels and respective salaries.
The GS system runs from 1-15, with GS-1 being the lowest and G-15 the highest. A professional's education, experience, job function, and location determine their GS level. For example, professionals with a bachelor's degree typically qualify for G-5 positions, while those with a master's degree may qualify for G-9 roles.
Though professionals can advance their position and pay grade through various means, experience plays a big role in the GS system and wage schedule. Within each grade, professionals progress through 10 steps, with each subsequent step providing a higher salary. It typically takes 18 years to progress from step 1-10. The following table outlines some DHS careers and their average annual salaries.
Average Annual Salary for DHS Careers
How to Become a Homeland Security Professional
The path to becoming a homeland security professional varies by individual and field, but the process can begin as early as high school. Interested candidates should seek out as many relevant courses, training programs, and practical experience opportunities as possible. While many positions require a bachelor's or master's degree for eligibility, some employers hire high school graduates with sufficient experience.
Due to the importance and sensitivity of these positions, the application process can take more than one year from start to finish. Applicants may need to go through several levels of interviews and inquiries, including a potentially lengthy security clearance check, before receiving an employment offer. The step-by-step process below examines how applicants typically find employment, though this may vary depending on DHS division.
Steps to Getting a DHS Job
Complete a high school diploma or GED.

Complete a bachelor's degree in criminal justice, homeland security, or a related field.

Complete an internship or volunteer hours for practical experience.

Locate and apply for a job opportunity on USAJOBS.

Interview for the position, which may involve a test.

Pass several rounds of review, including background, criminal, and security clearance checks.

Complete an orientation and on-the-job training.
Homeland Security Requirements
While requirements for homeland security professionals vary by individual, position, and location, the following sections look at typical applicant expectations regarding education and experience. Interested candidates should research the specific requirements for their location and desired position.
Education Requirements for DHS Jobs
The DHS employs professionals from a variety of educational backgrounds. Candidates may gain a competitive advantage or qualify for more advanced positions and pay rates depending on their type of training. DHS salaries, as mentioned above, typically follow the GS system, which tends to increase pay for professionals with more advanced training.
In addition to education level, discipline and specialization can influence applicants' employment chances. Majoring in criminal justice at the associate, bachelor's, or master's level, for example, can provide students with a relevant knowledge base and skill set, which DHS employers value. Completing continuing education or advanced degrees can equip experienced professionals to pursue managerial or supervisory roles.
LEARN MORE ABOUT HOMELAND SECURITY DEGREES
Required Experience for Homeland Security Professionals
Similar to education, experience requirements vary considerably within the DHS and its many divisions. In general, however, experience is an important factor in determining candidates' eligibility for initial employment, professional growth, and salary. Applicants may even qualify for positions with only a high school diploma and relevant experience, such as military or law enforcement service.
Within the GS system, experience helps determine how employees progress in their careers. Professionals typically spend designated amounts of time at each level. For example, they may spend one year each at steps 1-3, two years each for steps 4-6, and three years each for steps 7-9. Depending on the position, merit, education, demand, and other factors may influence professionals' progress.
Where Can I Work for the DHS?
The DHS offers a variety of professions within its many divisions and locations. This diverse collection of careers enables students to follow their interests and find positions that suit them. The availability of these positions depends on a variety of factors, including location and agency. The sections below explore how these factors come into play and highlight possible work opportunities within the DHS.
Locations
Location strongly influences career opportunities. DHS divisions typically hold locations in areas of relevance to their mission, such as near borders, airports, or coastlines. For obvious reasons, relevant locations have greater availability and demand of positions in certain fields. Interested DHS candidates may choose to focus their training in relevant fields based on a location of interest or where they live.
Places with higher population density tend to offer more opportunities. These typically urban areas usually host more DHS agencies and require more professionals to fill their ranks. A higher cost of living in urban city centers may impact wages, as well, since employers need to pay more to provide a decent quality of life to professionals in those areas.
DHS Agencies
The DHS maintains a variety of divisions, each dedicated to safeguarding and supporting the nation and its people in unique ways. These divisions cover the country's land, air, and water, and available careers within each vary considerably. To gain a clearer picture of potential opportunities, the following list details some DHS divisions and career options.
Resources
Frequently Asked Questions
How long does it take to become a homeland security professional?
Depending on the position and applicant, how long it takes to become a homeland security professional can vary considerably. In general, applicants need a bachelor's degree, which takes approximately four years to complete. The hiring process alone can take more than a year, as well.
What degree is needed for a homeland security job?
Homeland security professionals can hold degrees at various levels, including associate, bachelor's, and master's degrees. A bachelor's degree is the most common minimum requirement, but experience may allow candidates with less education to qualify.
How much do homeland security professionals make?
Several factors influence DHS wages, but the average employee in the organization earns an annual median salary of approximately $75,000, according to PayScale.
What requirements are there to work for the DHS?
Job requirements vary by position, but candidates should boast relevant training or experience, a clean background check, American citizenship, and the desire to improve U.S. safety and operations.
Professional Resources for Homeland Security Professionals
Find information about the department, what it does, and available jobs.
This page includes resources to assist law enforcement officials in their daily jobs.
This site offers resources for employees, including an employee survey, career development information, and the balanced workforce strategy.
Additional Reading
EXPLORE OTHER CRIMINAL JUSTICE CAREERS
EXPLORE OTHER CRIMINAL JUSTICE DEGREES
EXPLORE POPULAR HOMELAND SECURITY BLOGS
CriminalJusticeDegreeSchools.com is an advertising-supported site. Featured or trusted partner programs and all school search, finder, or match results are for schools that compensate us. This compensation does not influence our school rankings, resource guides, or other editorially-independent information published on this site.
Take the next step toward your future.
Discover programs you're interested in and take charge of your education.