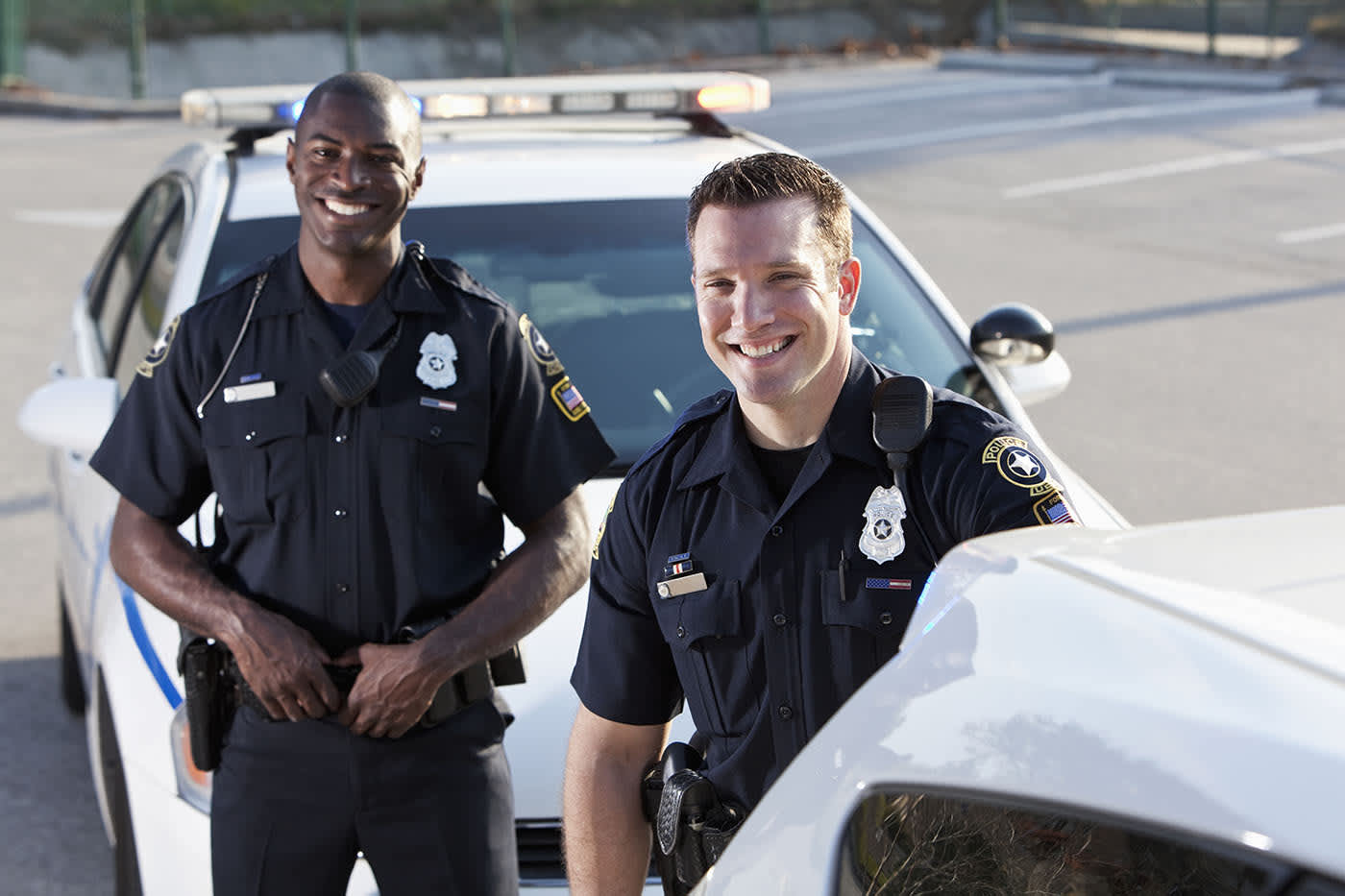 How to Become a Police Officer: Career Guide
CriminalJusticeDegreeSchools.com is an advertising-supported site. Featured or trusted partner programs and all school search, finder, or match results are for schools that compensate us. This compensation does not influence our school rankings, resource guides, or other editorially-independent information published on this site.
Are you ready to find a school that's aligned with your interests?
Police officers serve their communities by protecting property and people. Job responsibilities vary by function and employer, but law enforcement officers typically respond to emergency and nonemergency calls, keeping detailed incident records. Daily activities may also include testifying in court, collecting criminal evidence, and arresting suspects.
Various police officer jobs exist, including detective and criminal investigator, fish and game warden, and transit and railroad police officer. The U.S. Bureau of Labor Statistics (BLS) projects employment of law enforcement officials to grow as quickly as other occupations, at a rate of 5% from 2018-2028. Police officers and detectives also receive above-average earnings, taking home a median annual salary of $65,170 in 2019, according to the BLS.
Read on to learn more about law enforcement duties, how to become a police officer, police officer training, salary benefits, and career outcomes.
Featured Online Programs
Explore program formats, transfer requirements, financial aid packages, and more by contacting the schools below.
Career Description, Duties, and Common Tasks
Police Officer
Police officers perform various duties, including keeping residents safe, maintaining detailed records, and testifying in court against criminal suspects. Common law enforcement duties also include patrolling assigned areas, conducting traffic stops, observing a suspect's activity, making arrests, and preparing cases.
Duties and daily tasks differ based on police officer type. Police officers and sheriff's patrol officers, the most common types of officer, wear uniforms and conduct regular patrols. They also make arrests, conduct searches, and look for signs of criminal activity in their communities.
Fish and game wardens, on the other hand, educate the public about laws, patrol hunting and fishing areas, and conduct search-and-rescue operations. Transit and railroad police protect train and railway passengers from crimes such as assaults and robberies. Sometimes called agents or detectives, criminal investigators gather facts and collect criminal evidence. Detectives usually specialize in a specific kind of crime, such as homicide or financial crimes.
Unlike other professionals, most police officers carry equipment for arrests and defense, such as guns or handcuffs. They regularly work scenes of crimes and accidents. Specific types of police officers -- such as those in the U.S. Secret Service or FBI -- may need to travel or relocate. Border agents and environmental police work outdoors in physically challenging terrains and weather.
Steps to Become a Police Officer
You may want to know how to become a police officer, which involves several necessary steps.
EARN A HIGH SCHOOL DIPLOMA OR GED

The first step to becoming a police officer is to graduate with a high school diploma, a GED, or an equivalent. Some federal agencies and police departments require candidates to complete some college coursework or a degree.

COMPLETE OTHER REQUIREMENTS

Applicants must also complete basic requirements, including reaching the minimum age requirement (21), holding U.S. citizenship, passing a criminal background check, and meeting specific physical standards (e.g., completing a set amount of pushups or running a certain distance).

OBTAIN A DEGREE (OPTIONAL)

This career does not typically require a degree, but bachelor's programs can help students develop additional skills and become specific types of police officer, such as federal agent or fish and game warden. These officers usually earn higher salaries. A college degree can also help students learn a foreign language, an asset in specific regions and federal agencies. Some agencies and departments require college coursework.

ATTEND A TRAINING ACADEMY

Before becoming a police officer, applicants usually attend training academies. Academy students complete coursework and practical exercises in first aid, firearm usage, and emergency response. The training academy may require an entrance exam or a physical fitness test.
Police Officer Job Training
Law enforcement careers usually require some on-the-job training. After graduating from the training academy, police officers usually undergo a probationary period under the supervision of a superior officer. During this probationary period, inexperienced police officers learn how to apply techniques in the real world.
After probation, officers qualify for promotion. To become a corporal, sergeant, lieutenant, or captain, applicants must pass a written exam in addition to on-the-job training. In large departments, candidates may qualify for detective positions or specific criminal fields, such as homicide or juvenile crime.
Students can also acquire on-the-job training while pursuing a criminal justice degree. Many colleges and universities offer (and sometimes require) internships for law enforcement students. Learners can also apply for internships at local police departments, giving students the chance to network with veteran police officers and gain first-hand experience in protecting local communities.
Paid internships also exist with the CIA, the FBI, and the Federal Bureau of Prisons. The U.S. Treasury Department also provides internships for students interested in learning about financial crimes. These internships can also help degree candidates gain necessary skills and stand out among job candidates when entering the workforce.
Other Helpful Skills and Experience
Additional skills, such as physical strength and stamina, can help candidates meet police officer requirements. To keep up with daily job requirements, apprehend suspects, and pass required physical tests for entry into the field, officers and detectives must maintain good physical shape and demonstrate strength. Employers see prior military or security experience as a plus, since these candidates undergo previous physical and firearm training.
Moreover, police officers must possess good written and oral communication skills to effectively give detailed incident reports and speak with the public during fact-gathering. Law enforcement agents may also speak with suspects who communicate in other languages. To help diverse communities, officers should understand many different perspectives and display empathy. Law enforcement agents must also practice good judgment by determining the most effective way to solve problems.
Officers holding higher positions, such as detectives and fish and game wardens, may need critical thinking skills and perception to determine in advance why suspects act in certain ways. Since the public looks to officers for assistance in emergency situations, these professionals become highly visible community members. In their public roles, officers often serve as role models and must possess leadership skills.
Salary and Career Outlook
Police officer salaries vary depending on many factors, including job type, location, and additional compensation and benefits. Some police departments even offer higher pay for officers with college degrees and who speak multiple languages.
According to the BLS, the lowest-paid police officers earned less than $37,710, while the highest-paid officers earned an annual salary exceeding $109,620 as of 2019. Police officers often earn additional pay through overtime and special assignments.
In this field, individuals can increase their salaries through education and job experience. According to the BLS, detectives and federal agents earn the most of all police officers, taking home a median annual salary of $83,170 as of 2019. Aspiring federal police officers and detectives typically must possess a college degree and prior job experience.
As the need for public safety continues, the BLS projects employment for police to grow on pace with other occupations. Demand for police officers varies by location and depending on state and local budgets. Due to low job turnover, police candidates may face competition. Candidates with college degrees, law enforcement or military experience, and knowledge of other languages may stand out among job applicants.
Featured Online Programs
Explore program formats, transfer requirements, financial aid packages, and more by contacting the schools below.
Frequently Asked Questions
Do police officers get paid well?
Police officers and detectives earn a median hourly wage of $31.33, according to the BLS. However, law enforcement agents also receive other compensation and benefits, including an allowance for uniforms and extra pay for providing protection at special events. Officers who hold college degrees or speak other languages can also receive additional pay. Police officers usually retire younger than other professionals, giving them an early pension and the option to work other jobs.
I'm not yet 21. Is there anything I can do to prepare for a career in law enforcement?
Candidates who do not meet officer age requirements may attend cadet programs at certain police departments. Cadets can attend classes and perform clerical work until they qualify for a position. Cadet programs also provide students with networking opportunities and on-the-job training. Cadet candidates may need to complete interviews and criminal background checks, pass lie detector and drug tests, and meet physical requirements.
Do police officers always have to work nights, weekends, and holidays?
Because law enforcement agents must protect the public at all times, officers often work nights, weekends, and holidays. Experienced police officers and high-ranking officers, such as detectives, usually receive the best work shifts, leaving rookie officers with nights and weekends. However, law enforcement agents typically receive overtime pay, meaning either time-and-a-half or double-pay. Some police unions offer different rules for overtime pay and night, weekend, and holiday assignments.
CriminalJusticeDegreeSchools.com is an advertising-supported site. Featured or trusted partner programs and all school search, finder, or match results are for schools that compensate us. This compensation does not influence our school rankings, resource guides, or other editorially-independent information published on this site.
Take the next step toward your future.
Discover programs you're interested in and take charge of your education.