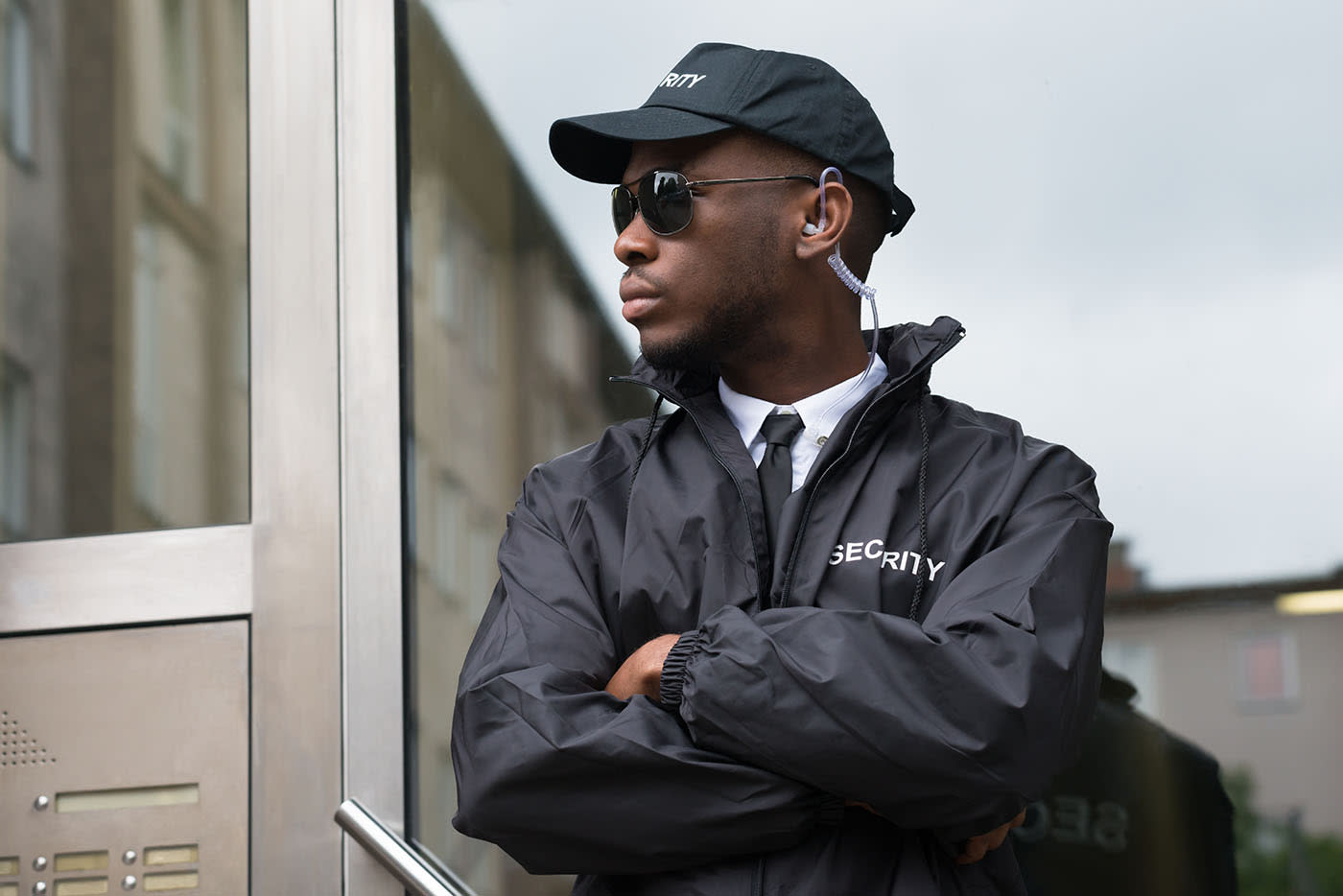 Security Guard: Career Guide
Are you ready to find a school that's aligned with your interests?
Search schools to find the program that's right for you.
A security guard patrols and monitors buildings and other areas to prevent or stop incidents, such as theft or violence. Security guards also answer alarms and may apprehend individuals who pose a security threat. Many large organizations hire security guards and security directors, the latter of whom manages the guards and the security system overall. A security guard provides safety for the employer by guarding against violations of the law as well as disturbances that could result in a loss to the client. Most security officers work in the private sector. Many businesses employ security guards, including banks, museums, hospitals, office buildings, nightclubs, and stores. Security guard specialties include retail loss prevention, armored car guards (who protect money and valuables transported from one location to another), gaming surveillance officers, and bouncers. Some security guards go on to become police or law enforcement officers and study while working full-time to earn an online associate's or bachelor's degree in criminal justice.
Featured Online Programs
Explore program formats, transfer requirements, financial aid packages, and more by contacting the schools below.
Career Description, Duties, and Common Tasks
Depending on the setting, a security guard's duties may vary significantly. In some instances, a security guard remains "static," e.g. stays in the same location, monitoring closed-circuit security feeds. A security guard may also monitor employees as they enter and exit the building or perform certain activities, such as cash handling. In mobile security positions, the security guards may patrol and monitor on foot or in cars.
Security guards:
Communicate closely with law enforcement, fire departments, and emergency medical personnel
Document, usually daily, the activities, including disturbances, that occurred. Clients then use the reports to assess potential damage from the disturbance.
Ensure alarm systems, doors, and windows are all secure and properly working
May interview witnesses and/or testify in court
Patrol and inspect property to protect it from fire, theft, vandalism, or other criminal activities
Steps for Becoming a Security Guard
Most security guard jobs are entry level and typically require a high school diploma. Individuals seeking an edge in hiring can pursue additional education such as an associate's degree in criminal justice. Security guards must also:
Be able to communicate effectively orally and in writing
Be able to think quickly and critically
Be mindful of customer and public service
Be legally allowed to carry a handgun, if the position requires use of a firearm
Exercise good judgment in potentially dangerous situations
Have knowledge of public safety and security
Possess knowledge of the laws and regulations that govern the security field
Work well independently and with others
To become a security guard, you will proceed through steps similar to the ones below.
Apply for an open position of security guard.
Be interviewed for the position.
Pass a background check.
Get hired as a security guard.
Receive on-the-job training once hired.
Security Guard Job Training
Security guards generally must complete training upon hire. Training varies depending on state regulations and the position. Armed security guards usually require more extensive training due to firearms use; armed security guards may also have to pass a firearms exam. Ongoing training in best practices, the use of force, and updates to state and local laws is common for security guards.
Other Helpful Skills and Experience
Candidates with an associate's degree or higher and/or who have a knowledge of a second language may have a hiring advantage. Previous law enforcement or military experience may also be advantageous.
Possible Job Titles for This Career
Protection Officer
Security Guard
Security Officer
Featured Online Programs
Explore program formats, transfer requirements, financial aid packages, and more by contacting the schools below.
Security Guard Salary and Outlook
The Bureau of Labor Statistics (BLS) reports that security guards earn a median annual wage of $28,530 per year.1 As a security guard gains experience, he or she may earn a promotion to a supervisory position such as security director. Those seeking such advancement often have a bachelor's degree in criminal justice. The BLS projects jobs for security guards will grow 6% from 2016 to 2026, about as fast as average for all occupations.1
Related Careers
Research more private-sector criminal justice careers:
Frequently Asked Questions



What kind of schedule does a security guard typically work?


Security guards often work in shifts of eight hours or more and should be prepared to work a rotating schedule.





Are there any risks in working as a security guard?


Prospective security guards should be prepared for the possibility of injury as they may deal with unpredictable, emotionally charged individuals. The BLS reports that security guards have a higher rate of injury and illness than is typical for other occupations.





In what industries do security guards most often work?


According to the BLS, the majority (58%) of security guards work for companies that specialize in armored car services, investigations, and security guard services.





Is drug testing required as a condition of employment as a security guard?


It depends on the hiring organization. Most organizations do require drug testing as a condition of employment.




Additional Resources
References:
1. Bureau of Labor Statistics Occupational Outlook Handbook, Security Guards and Gaming Service Officers: https://www.bls.gov/ooh/protective-service/security-guards.htm
A master's degree in criminal psychology focuses on how psychology applies to criminals and criminal contexts. Criminal psychology master's programs provide foundational knowledge of clinical…
Our ranking explores the top U.S. criminal psychology degrees of 2021 and provides a detailed guide to program requirements and career tracks.
Interested in pursuing a juris doctor? Explore our list of 2021 JD degrees to find excellent ABA-approved and accredited programs at top law schools.
Are you ready to find a school that's aligned with your interests?
Search schools to find the program that's right for you.